Peaceful Acres Pet Cemetery & Crematorium was established in 1994 and has been servicing veterinarians and their customers for over 20 years. With a reputation for being timely and dependable we are proud to of offer our services in many different counties in Nova Scotia.
At Peaceful Acres our family is dedicated to handling pet cremations. All cremations are handled and cared for by our family, there are no couriers or middle people. We provide quality pet cremation services at a reasonable cost. All processes involved in the cremation of a pet, including initial call, time of pickup, cremation date/time and return of the ashes are recorded in detail. During the cremation a stainless steel identification tag is placed with the body and stays with the body until the ashes are returned.
Our facility currently has a state of the art crematory which is fully inspected and regulated by the department of Environment. All equipment and processes used are identical to that used in the human cremation industry. We have a viewing room in our funeral home that allows pet owners to say their final good byes, and also a place to view the cremation as it takes place if desired by the customer.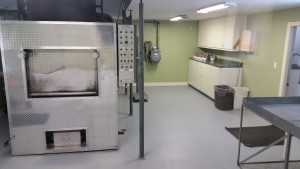 Additionally we do offer communal cremation services for veterinary hospitals. This type of cremation is when a group of pets are cremated together. There is no ash return for this type of cremations, the ashes are then scattered on private properties in the countryside.
For more information please contact us